We met Romain, one of our international Frenchy Host in the well known city of Lille for its warm peoples behind a cold climate, generous foods and large range of beers.
Hosting the unmissable Braderie too in the first weekend of September where happiness is spreaded all street longs and where mussels never miss.
COULD YOU INTRODUCE YOURSELF , WHO YOU ARE AND WHAT DO YOU DO AT DECATHLON ?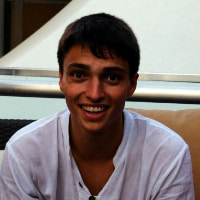 I think I am a guy that made a bit of road , that explore and celebrate here and there, meeting a lot of interesting people meanwhile. I just want to do the same, always looking for meeting interesting peoples everyday.
I do not know.. Otherwise I am young french guy of 25 years old, citizen of the world !!!
At Decathlon, I am Production Leader . What is it ? I am the interface between Decathlon and the industrials that supply products for us. I manage them for the price, quality and developments of new products. It's a job that require a lot of functional management.

HOW DID YOU HEARD ABOUT TEPEE ?
When I was in Bangladesh. I saw something passing in Google + last year.
WHAT WAS YOUR FIRST IMPRESSION ABOUT US ?
It's wonderful. That's for me. It's a great idea.
As a recurrent business traveler you use to be bored where you arrived at your destination except if you get some locals sometimes that takes the time to make you go out. I said cool to meet people that you can offer or share a bit of life with you.
AND WHAT'S IN REALITY ?
To be honest. I did not had much expectations.
I did not say I will get this, want this or that. I take the things as they come .
Therefore first you do not get often bored and second it let the door open to be able to do a lot of things spontaneously.
When I was hosted by Alex with my first experience, we did always different things.
We cooked together. I pay him the restaurant. We did something different each evening.

HOW WAS YOUR HOSTING WITH DENIS ?
It was very well even if it was short. Even if they arrived very late, even if it was very short it was great because I met someone very interesting.
He slept the previous night on another Teeper place, he joined us directly in one bar after he ends one dinner with his team.
Then we shared us three a drink and had very interesting discussions.
He brought me a bottle a vodka and chocolate box.
And in the morning he was leaving while I woke up.
We passed couple of hours together.
WAS IT AN ISSUE FOR YOU ?
Not at all. It would also have been great if we got more time. But was already fine like that.
WOULD YOU RECOMMEND DENIS TO ANOTHER HOST, WHY ?
Because is a very open mind person. Very simple example, when he arrived home he was very adaptable, he did not expected a 5 stars hotel. He was super fine with the sofa bed, I did not prepare anything in advance. He insist to put the covers himself, very easy going.
IF YOU HAVE TO LIVE YOUR NEXT TEPEE HOST EXPERIENCE, WHAT WOULD YOU LIKE TO DO DIFFERENTLY ?
I will make it last longer, proposing more nights in order to bring him to one of my Judo session, cooking... make him discover the city. I could not because of my business trips.
IF YOU CAN SUPPORT US TO MAKE TEPEE AN ALWAYS BETTER EXPERIENCE, WHAT WOULD YOU LIKE TO RECOMMEND US ?
I do not if today as an Host I can propose the activities I can offer to my Guests : we can do Judo, biking, run, monocycle, cooking this or that plate ..
It will allow people to connect even better which is the point to live a Tepee.
HAVE YOU ONLY EXPERIENCE TEPEE AS HOST OR YOU LIVED IT ALSO AS A GUEST?
As a guest too yes.
HOW WAS IT ?
Super fine. That's was not the hotel. But that's was not what I was looking for too.
I did not got my own room, my sweaty little towel, my fridge in the room... But once again you meet someone local that make you live a local experience and share a lot of thing with.
WHAT WAS YOUR BEST MEMORY ?
The moment I arrived.
You know when you arrive at the train station, the first moments in a new city and you see a guy looking for you, already here to welcome you. You eat just after in local burger.
The first instant sharing with person you did not know before and will sleep with the same night. I remember on the first moments I entered his home I asked him "but you do not have additional bed ?" and understood that he was going to give you his couch.
We meet each other now that I am in Lille.
IF YOU HAD TO SPEAK TO THE WHOLE TEPEE COMMUNITY WHAT WOULD YOU LIKE TO TELL THEM ?
Do not do it because your Boss told you that is cheaper.
Just do it if you want to meet wonderful people that they are ready to make you live something great. You have to be in this logic of sharing too .
It's not only somebody that will bring you something.
You have to bring them something too.
You have to be ready too to make an effort. It's a bit more tiring but it's not being spectator that you make it the most wonderful of it.
But if you are motivated to do , let's go !!!
And at the end you make saved a bit of money to your boss.. but that's and other question. That's only one consequence.
If you only do that to save money you lost the most of Tepee.pro