How I got my first job in a social Start-up: The modernisation of HR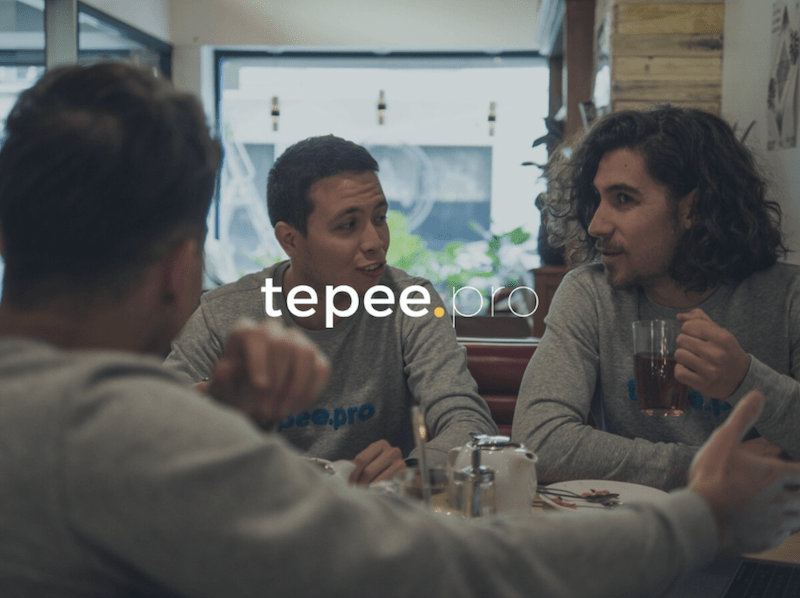 Experiencing an organic on-boarding process
It's been almost two months since I assisted an entrepreneurship pitching contest event in Lille, France. I was in the audience and a new pitch started, it's a company called Tepee.pro, everything is fluid, good-looking and really interesting for me; I had never heard of them before. Suddenly, a message on the slide tells me I need to take a picture of this to never forget it.
After some of my elementary-school-French interventions the pitch is over and the speaker is getting ready to leave stage as I ran in line to interview him and take his contact since I am very convinced I can apply to work for this company. To my surprise, I find out the speaker is Allan, company's CEO. He starts taking to me in Spanish as he rushes for another appointment and he says bye encouraging me to apply for a position; a one minute conversation that thankfully ended up in giving me a job in the company after following their very particular HR process.
Entrepreneurship indeed is about why
I applied for a position the same day after the event and it took no more than three days to had a reply. It was my first contact with Alexandre (Chief of experiences at Tepee.pro). He had sent me an email written in high-school-Spanish asking for my availability to meet up, emphasising the importance of having a face-to-face appointment to deeply explain the process of joining the company. No automated mail reply, no recruiter call, no questions about the CV.
First meeting day, the appointment is at 5:30 p.m. in a very cool local café in downtown. I arrive on time, we have scheduled for only one hour and I have many questions. I enter the place and I finally got to meet Alexandre as Allan is leaving the place, surprised to see me. He greats me and wishes me good luck. He says to me: "I didn't even know you were coming. This is how we work here. We empower everyone to be qualified and equally capable to perform any task. I'm happy to see you again and I hope to see you soon. Take care." That's him, always running.
We sat down and started to try communicating in Spanish, then French, Spanish again until we finally agreed on English. We laugh and share some of our personal values and previous experiences. I received a lot of information about the company's processes, the business know-how and some brief explanation about some of the tools every employee uses in this company. We finished by exchanging our personal phone numbers and agreed to keep talking via chat while I explore and try the tools by myself. No formal suit required, no standing in line with other candidates, no big crystal sky-crapper or fancy office, no set of interviews with four different recruiters, no express business case study to solve in less than two hours, no challenging questions.
After a week performing some tasks with the company's tools, we met again in the same place to talk about the role I wanted to perform, my strengths and weaknesses, working place, schedule, number or hours per week and more. This time, a 90 minutes morning meeting, a gentleman's agreement and a leap of faith was enough to create the required trust to launch the company's software and openly share sensitive data to solve some of my most direct questions like:
How does this company make money? Who pays for it?
What are your last three month's revenues? Are you guys actually profitable?
Can you provide some proof of the social responsibility actions you said you perform every month?
Are you a legally integrated and registered company?
Do you treat user's data according to GDPR?
After this enriching meeting, we stretch hands and we agree on drafting a contract for me to join the company. Yay! No assessment day, no one-hour sit down quiz, no revision on who learnt-by-heart the company's mission, vision, and values, no tricky psychological test.
Officially meeting the tribe
Everything is fine, the company team members are travelling by bike around France and it takes a while to complete this adventure. On the other side, I am still studying and pretty worried since I have to write my master's thesis to hand it in mid-May, so just keep a distance for about a month while messaging every time clearance of a topic is needed, including salary, insurance and vacation time. Finally, there is a window time for a meeting and we agree on a new appointment date to gather with the rest of the team members and to finalise the formal welcome into the company.
Last week I had the welcome day between a mix of teammate's presentations, role definition, brainstorming process, task definition and cooking! This is only the beginning and the best is yet to come.