Help impactful projects ?
Our service cost 50€/night and allow us to support impactful projects. Our team and partners work with people and companies acting for positive impact. We do business for good.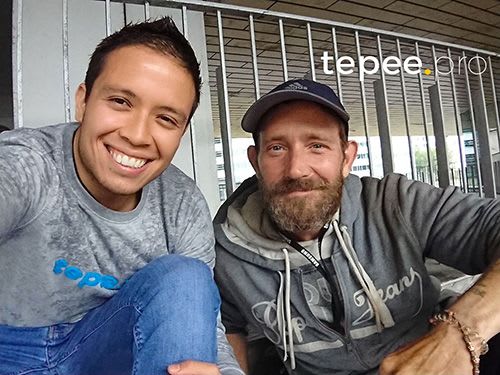 Solving homelessness is obviously a major issue to tackle in the world. Too many people still live and sleep in safe and unhealthy conditions, even in the most economically developed countries and cities.

Just in France, 2000 persons die each year because of a lack of health and safety in the streets, while 3.6 millions citizen or 5% of the french population live without a regular home, in temporary housing or in heavily damaged and risky accommodations.
Business travel is a very big market
Meanwhile, business traveling is a market worth several billions euros every year, spent mostly in unsustainable and non-responsible services such as hotel rooms, flights, taxis and restaurant chains.
Obviously these huge expenses never benefit the locals, the cities and countries we travel to and the local economy. A small bunch of big international corporations (with little-to-no social or environmental engagement) polarizes the market and attracts the majority of the invested resources.


Tepee.pro is on a mission for social justice

We do it by re-routing the business travel expenses towards societal issues so it benefits people that need it. Don't worry for hosteling corporations's shareholders, they have way too much income they don't even know what to do with it.

We propose you a simple deal :
1️⃣ When planning your business trip, you book your nights on tepee.pro and choose to stay with a local. You will discover your destination like never before and have a memorable human experience.

2️⃣ We collect your payment, pay our taxes in France, then we* go and bring homeless families or individuals to a decent accommodation : Often it's a hotel or a hostel, sometimes a rented apartment for longer stays, which we book and pay for them to sleep safely and decently.

Who is behind we* ?
1. Ourselves, the Tepee Team most often, as we're personaly engaged in local non-profits to help people in need already.
2. Local non-profits we delagate this delicate job such as ABEJ SOLIDARITE in Lille (FR) who already relocated several families for a total of 50 nights in the city

We have a solution, you can use it
Start traveling with responsibility. Start living real experiences while being abroad. Start meeting singular personalities you don't know yet. Start growing your network.